•
Read about becoming a referee here: www.wisref.org.
• Register for a Referee Clinic here: www.wisref.org.
• Clinic Registration Everyone must pre-register for an Entry Level Clinic or a Level 9 to 8 Course Clinic by electronically registering. Click here to see the list of available clinics and register. For further information about entry level referee clinics, contact Linda Huttenhoff.
• If you are interested in upgrading to level 7, 6, or 5 check here to find out what it takes to upgrade. Contact your Assigner Linda Huttenhoff to assist you in upgrading.
---
The 2013 Referee Recertification Thermometer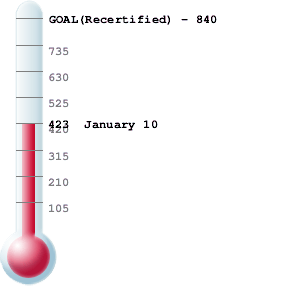 That's 51%! Sign up for a Recertification Class today!